It's about that time. It's mid-January, and Super Bowl LVI is right around the corner.
That means it is time to figure out what your Super Bowl party plans will be.
Several questions are probably running through your head.
Should I host? If I don't host, will I be able to make it? What should I bring? What food will there be? What if my ex shows up?
No matter what the answers to those questions end up being, don't lose sight of what that night is all about: football, food and fun.
And for those who might struggle with planning, PlayAZ has some ideas for you on preparing the perfect Super Bowl party.
Claim Your $1,200 Bonus at DraftKings Sportsbook

1
Up to $1,200 BONUS
New User Bonus. T&Cs Apply
DraftKings Promo: Bet $5 Get $150
PLUS $50 Bonus Bet On Deposit

PLUS up to $1,000 Deposit Bonus
PLUS a Daily No Sweat Same Game Parlay
Gambling Problem? Call 1-800-GAMBLER

To Claim: Click Play Now
No Super Bowl party is complete without gameday food
There are so many different options for Super Bowl party ideas. But the one thing that you have to nail is the menu.
Next to the actual game, the food is arguably the next most important aspect.
People take their Super Bowl Sunday snacks seriously. But there is so much to choose from:
Sliders
Wings
Nachos
Dips
Pizza
And that's just the tip of the iceberg. (By the way: no salads, please. More on that in a minute.)
Remember that finger foods, small bites and dips are ideal when planning your Super Bowl menu. The big game is usually around three to four hours long. Meaning you don't need to put together some four-course meal. Instead, a boatload of snacks and appetizers are best.
Which Super Bowl snack is king in Arizona?
The Super Bowl will be the main course, but people in Arizona love to fuel up with their favorite gameday grub.
Last year, Google Trends compiled a state-by-state map of uniquely searched Super Bowl foods. In Arizona, people searched for seven-layer dip more than any other big-game snack. The study is based on Google searches. So while it was the most popular search, seven-layer dip isn't necessarily Arizona's favorite Super Bowl dish. Maybe folks might have simply been looking for tips on making it.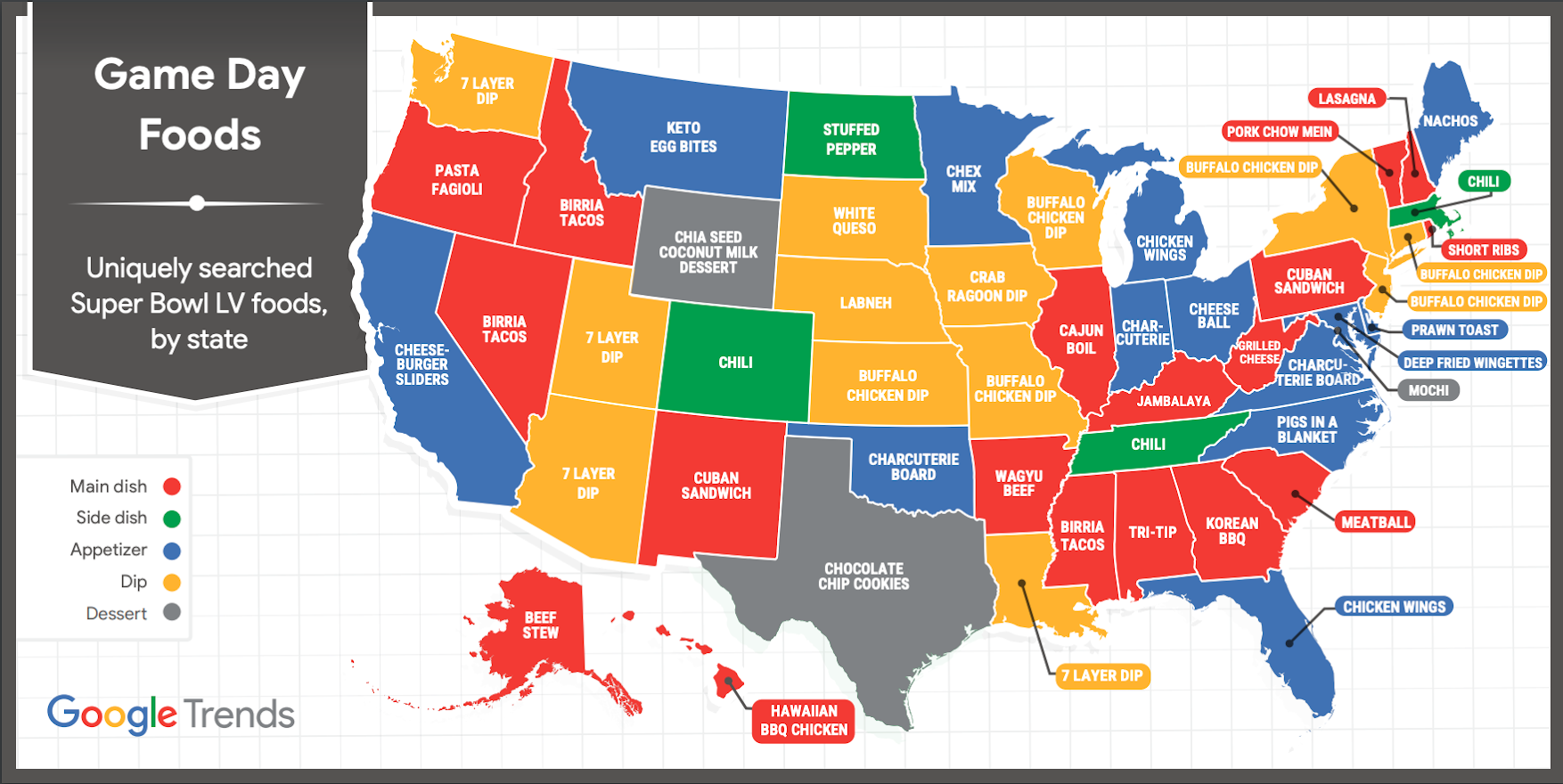 Data from a 2020 study collected from Google search volume and a 1,200-person national survey came up with the top Super Bowl foods in each state. According to the study, buffalo chicken dip was the most popular food for Arizonans to snack on during the Super Bowl. It was also the favorite in California, Nevada, Utah, Florida and Hawaii. Dips and cocktail wieners were the overall most popular Super Bowl foods across the United States.
The study also found the most popular Super Bowl foods in the 20 largest US cities, which included Phoenix. There, residents favored baked nachos for the Big Game.
Being a great Super Bowl party host
If you plan on inviting friends over to your place to watch the Super Bowl, it's essential to be prepared. You can score big with these ideas to come up clutch with a winning party plan.
Get a good sleep the Night before, make sure Saturday isn't too crazy
Anyone who has hosted a party before knows that the host's energy is crucial to the fun.
You need to be ready to deal with any problems that arise. But more important, you need to have some fun too. Meaning, a good night's sleep is important.
Also, the Saturday before your Super Bowl party is not a great time to go wild. You are about to have a bunch of rowdy guests over, so a clear mind will allow you to stay sharp while keeping your stress level to a minimum. Make sure you have all your supplies well ahead of time, so you aren't running around town the day before.
Tidy up
You may be cool living in your own mess, but your guests will not.
Make sure that you wipe down the surfaces, sweep the floor, do the dishes and take out the trash. A fresh house leads to a fresh party.
Stay away from healthy foods
In this day and age, people are crazy about their health.
However, the Super Bowl is right up there with Christmas and Thanksgiving when it comes to "cheat days." Pizzas, wings, beer, soda and tons of sugary and greasy grub are expected on Super Bowl Sunday.
Don't invite too many people
The term, "The more, the merrier," may apply to some parties. However, a Super Bowl party revolves around watching a football game, and it can easily feel overcrowded.
You'll want to avoid having people feel like they have to fight for seats or settle for a seating option that leads to uncomfortable viewing. Keep your guest list small. Invite close friends and family, and don't make them suffer by inviting everyone in your contacts.
Lastly, have a good time. Hosting can be stressful, but it can also be very rewarding. If your guests leave happy, you'll be happy. And worry about that mess you'll have to clean on Monday.