With legal sports betting now in Arizona, the number of online sportsbooks can be overwhelming. That's before you even get into who's offering what kind of sign-up bonus, who's got the best weekly sportsbook promotions, and how you can make the most out of the bonuses. Leaving you asking yourself, "Can you really get bonus bets from sportsbooks, and are they really free?" (In both cases, often yes.)
This page will introduce the differences among some of these and what you can expect from online sportsbooks in the way of bonus bets, promotions, and bonuses. With online betting, you can sign up with various sportsbooks and take advantage of whichever offer works for you. These offers can help ease your way into online sports betting, too, by minimizing your risk.
Arizona sportsbook bonus and promo codes
Rank
Sportsbooks
Bonus
Features
Play
1
Up to $250
Bonus Bet with First Wager
First Bet Reset Up to $250 Back in Bonus Bets 
Get Betway Boosts & Enhanced Odds
To Claim: Click Play Now

2
$1,000 FIRST BET

On Caesars
Up to $1,000 Back as a Bonus Bet if Your Bet Loses
Stream NFL Games In-App for Free

Use Promo Code: PLAYAZ1000

3
UP TO $1,500
In Bonus Bets
$1,500 Paid Back in Bonus Bets

Free Live Streaming - Watch Live Games
Use Bonus Code: PLAYAZ

4
Up To $100 in Bet Credits
ONLY 1x Play Through!

Use Exclusive Bonus Code: PLAYAZ
5
GET UP TO $1,111

In Fred Bets
Bet $50 Get $111
Get $200 a Week for 5 Weeks 
Daily Odds Boosts

Use Promo Code: BETBONUS

6
Get up to $200 in Bonus Bets
Available on Desktop, Android & iOS

To Claim: Click Play Now

Betway Sportsbook Bonus
Betway is offering a First Bet Reset of up to $250. Sign up for a Betway account, and if your first bet loses, you'll get up to $250 back in the form of bonus bets.
Caesars Sportsbook Bonus
Caesars has been making its presence felt in a big way in recent times. They manage to back up the hype with a great product. The bonus offer is incredibly generous to boot.
$1,000 First Bet on Caesars
Enter the promo code

PLAYAZ1000
More information: Caesars AZ promo code
BetMGM Sportsbook Bonus
Another sports betting heavyweight with a great interface, BetMGM has been making a lot of noise in available states. They've also stepped up to the plate with a great bonus bet offer.
Bonus Up To

$1,500

Use the promo code PLAYAZ
To get the ball rolling with the bonus bet, you have to make your first deposit on site. The minimum to qualify for the offer is $20, but it's good up to the max of $1,500. After your account is loaded, you can place your first bet with a little insurance.
If the bet loses, BetMGM will provide you with five separate site credits, each of which represents 20% of your initial stake. You won't be able to take them out, but you can use them to bet and any winnings will be yours to keep.
More information: BetMGM AZ bonus code
BetRivers Sportsbook Bonus
BetRivers might not be as well-known as some other Arizona online sportsbooks, but it's still a solid choice if you want to bet on sports using your computer or mobile device.
2nd Chance Bet Up to $100

Use the promo code PLAYAZ
With its 2nd Chance Bet offer, BetRivers Arizona gives first-time depositors a chance to try again should they fail to win their first wager on the site. If your first wager loses, you receive a Bet Credit equal to your stake up to a maximum of $100. Note that to qualify for the offer, your first bet can be on any sports offering with odds -200 or greater (e.g., -150, +150, etc.).
If your bet does lose, you'll receive the Bet Credit within 24 hours. The Bet Credit will expire 30 days after it is issued, so be sure to place it. If you win your bet, you'll receive the winnings, but not the amount wagered (unlike traditional bets).
More information: BetRivers AZ promo code
Betfred Sportsbook Bonus
There are a number of online sports betting options in Arizona, but the welcome bonus at Betfred Sportsbook Arizona is one of the best you'll find.
Up To $500 bonus bet
Use the promo code BETBONUS
All you have to do is sign up with Betfred AZ using the promo code BETBONUS and your first wager will be bonus for up to $500.
If your bet loses you'll receive a bonus bet back, equal to your losses, up to a maximum of $500. You do need to make sure your opening bet has minimum odds of -200. That means -250 would not qualify, but -110 would. As would all "+" odds.
More information: Betfred AZ promo code
FanDuel Sportsbook Bonus
One of the most user-friendly online sportsbooks available, FanDuel has also become a preferred option for tons of bettors. You even get to try it out in a bonus fashion.
Bet $5, get up to $200 in bonus bets
No promo code needed
After you sign up with our links. The sportsbook will reward you up to $200 in bonus bets when you make your first $5 wager. It can take up to three days for the credit to hit your account, but it'll typically happen much quicker than that.
You'll also get $10 worth of bonus bets for every Women's World Cup game that Team USA wins. No FanDuel Arizona promo code is needed.
DraftKings Sportsbook Bonus
A slick platform with lots of great features has made DraftKings a go-to spot for scores of bettors in legal states. The two-part bonus offer is among the most generous that you'll find.
$50 Bonus Bet On Deposit
20% Deposit Match Up To

$1,000

No promo code needed
Once you sign up off of our links and make a deposit (minimum of $5), DraftKings will credit you with a $50 bonus bet. You can use it to bet on anything you'd like, and any winnings obtained will be yours to keep.
The second part of the offer is a 20% deposit match up to $1,000. If you deposit $1,000, you'll get a $200 match, a $100 match for a $500 deposit, and so on. As you wager on site, the bonus will be released at a rate of $1 for every $25 you bet.
The $50 bonus bet must be used within 30 days of signing up, so use it or lose it. To clear the maximum amount you're eligible for with the deposit match, you'll have 90 days to complete the playthrough requirement.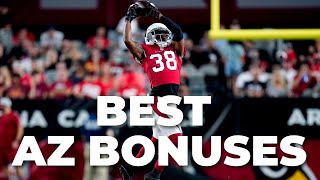 Sports betting promotions & bonus bets guide
The specifics of how to claim a bonus or bonus bet offer vary from site to site. This is often a case where you need to read the rules for each sportsbook to make sure you can claim your promotion. You also can consult the specific terms and conditions associated with any promotion for precise details. There are two basic styles: Either you have to deposit or you don't. The second kind, you can probably guess, is not as common. They do happen, however, especially during big events like the Super Bowl.
No matter which style it is, many sportsbook promos will require a code to unlock. And once you've made an account at the sportsbook, you can redeem the code. Commonly, the field to redeem the code will be on your account page, deposit page, or registration page if you're signing up for a new account.
There also are some promotions that you don't use a code for. Instead, the sportsbook automatically adds them to your account when something specific happens, like you make a deposit of a certain amount, you lose a certain amount, or you open a new account.
Bonus bets are one of the most popular and sought-after bonuses in online betting. It's just more fun to gamble when it's not your money. They also may let you make a different or bigger bet than you usually might because there's less risk involved. Read the promotion carefully, however, as some of these require a minimum deposit, or might want you to enter a code somewhere or check a box to opt into the offer. Also, note that bonus bet offers always require you to register for an account with the sportsbook and enter a valid payment method.
Some of the promotions you come across will be no deposit bonuses (you don't have to make a deposit to claim the bonus bet). You also will see deposit matching bonuses. These increase based on how much you deposit. No deposit bonuses are usually smaller, limited amounts, like $5 or $10, while deposit matches often simply match 100% of your deposit, effectively doubling it, up to a set amount.
The different types of sportsbook bonuses in Arizona
You're going to discover that there is no real "set" style of bonus or promo at online sportsbooks. Some are similar, of course, but there is a lot of variety out there. Here are some of the more common bonus bets and bonuses you'll find at the top sportsbooks like DraftKings in Arizona.
bonus bets: This starts with you making a wager. If you win, you get your payout just like normal. If you lose, however, you receive a refund, usually in the form of a bonus bet. There are often requirements for this kind of bonus, so make sure to read the terms and conditions before making your first wager.
Bonus bets: These are by far some of the most popular sportsbook bonuses. Look at these like you're making bets with money that the sportsbook has provided. There are usually rules associated with these bonuses. You might have restrictions on the type of bet you can place or the sport you can bet on. Keep in mind that, in most cases, if you win your bet, you'll get the winnings but not the bonus bet amount you wagered itself.
Match bet: This is mostly just a bonus bet. You use your own money that you've deposited in your account to make a bet. If you win, then great. If you lose, however, you will get a credit in your account for the same amount you bet with. A typical match bet offer is 100% up to $500.
No deposit bonus bet: This is a free wager you get to make at the sportsbook that offers it. You have to register for an account, of course, but you don't need to risk any of your own money at all. Instead, you get an amount (usually $5 or $10) that you can bet with. If you win, you'll have to meet a "requirement" to cash out the winnings. That is typically playing through the amount 10 to 15 times. Once you've met that requirement, you can withdraw the money if you wish.
Deposit match: With this bonus, the sportsbook will match the amount you deposit. The match is typically for 100%, but sometimes less. There will also be a cap on the amount that the sportsbook will match. You'll need to reach a required number of playthroughs before the matched amount actually becomes available to withdraw. Make sure to read all the terms and conditions before depositing your funds.
Sportsbook promos after the initial bonus
Many of the more popular Arizona sportsbooks like Fanduel or BetMGM AZ also offer promotions to existing account holders.
These bonuses range from profit boosts to odds boosts and sometimes even free sports bets. Do a little research on the various sportsbooks to see which promotions you like.
Sportsbook bonus terms and conditions
We cannot stress this enough: Always read the terms and conditions. Within those, which you must agree to in order to open an account, are all the rules the sportsbook uses.
When will the sportsbook cancel a bet? It's in the terms and conditions. What constitutes a completed NFL game? That's also in the terms and conditions. What kind of deposit and withdrawal methods can I use? That info will be in the same place.
Don't worry if you clicked "accept" without reading the terms and conditions. You can always find them on the sportsbook website.
There also are more terms and conditions you should read whenever possible, and those are the rules governing bonuses and promotions. Some will have requirements that you need to meet in order to withdraw winnings. Others will have rules for what kind of bets you can make using the bonus.
Downloading a sports betting app
When it comes to getting yourself set up with a sportsbook app, the process is easy. Most sportsbooks have links on their homepage for you to click to head right to the download page.
After you've downloaded the app you can make your account active if you haven't already. To do that, you will need to input personal details such as the last four digits of your Social Security number (all legal and regulated sportsbooks require these details), your address, and your contact information.
With a sportsbook on your mobile device, you'll be able to place wagers from anywhere within Arizona state lines. You also can usually access your account from anywhere, not just Arizona. You cannot, however, place a bet from anywhere other than the Grand Canyon State.
Sportsbook Bonus FAQ
What is the typical no deposit bonus amount?
It really depends on the sportsbook, but the usual amount you'll come across will be either $5 or $10.
Do I have to bet a certain amount before I can cash out?
Most bonuses are going to have a requirement you need to meet before you can cash out your winnings, and a large amount of those will be "playthroughs" or a set amount you need to wager before you're able to withdraw the funds. The actual requirement will vary, but you can find out what each one is by reading the terms and conditions prior to accepting the bonus.
Will I need a bonus code?
Sometimes. Some sportsbooks don't require one at all and you can claim a bonus by signing up or meeting some other requirement. For the sites that do require one, you'll be able to find many codes on this site.